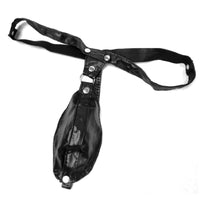 Black Low Waist G-String Chastity Belt
For some reason, your woman seems to less horny for a few months now. She barely responds to your advances at night. Where is the spark that once fired up her passion for making love with you every night? Perhaps she became used to the same routine you have been doing?
Whatever the reason is, you have to bring that desire back. And the best way to having more engaging sex? Kink! Do roleplays before getting straight into penetration. Like for example, play the role of a strip dancer baiting a customer for a one-night stand. If this is the exact picture you have in mind, you need this Black Low Waist G-String belt. It will make you so stunning hot like a devil about to violate a good girl!
This G-string barely covers your privates, including the butt-cheeks! It has a cup-like PU leather piece on its facade, supporting the balls and penis. This almond-shaped supporter hooks to a T-strap surrounding half of the waist via an O-ring. The other half circumscribing it is a strap made of gartered polyester. This garter makes it stretchable to allow conformance to many waist sizes.
Show your woman the kinky side of you. Seduce your way to her heart by dancing sexily. Strip every piece of cloth you have on your body, leaving this G-string to only cover a small portion of your cock and balls. With these steps, you can definitely win her pussy back!
You can use this over and over again for as long as you clean it well. Water with mild soap is the best formula to wash away the dirt and smell on it. Hang it to dry, then store it in a moist-free place to avoid molds and bacteria buildup.
Get your girl go-bad by seducing her as you wear this Black Low Waist G-String belt. Get this now!
All LocktheCock packages are shipped with your privacy in mind. The package will be discreet and bear no markings to identify it.

This products, and all products on special order is currently only available directly from our factory. Unfortunately, this means shipping may take up to two weeks to continental US. Orders can be shipped worldwide, but may take longer due to international shipping rules.
Comfort, Style, Functionality
Each LTC cage is carefully selected by our team of experienced slaves and Mistresses to ensure that whichever one you choose, you'll enjoy the premium chastity experience you expect from Lock the Cock.
Privacy and Discretion Assured
Both shipping and billing are handled discreetly and securely. Lock the Cock won't show up on package labels or bank statements, keeping your pledge our secret.