Male Chastity and BDSM
In any relationship there's always bound to be a time where your normal sex life starts to lose its appeal. There's only so many times you can use the same moves before you begin to get a bit bored after all.
While there are plenty of ways to spice up your sex life, many couples turn to BDSM to find the new spark. But just what is BDSM? And how can it fit into a chastity relationship? Let's explore these questions together.
What Is Bdsm?
BDSM is a vast topic that covers a huge range of sexual fetishes. You might even already be a regular fan of BDSM without even knowing it! But before we dive into the more specific fetishes, let's start with the letters themselves:
B – Bondage
D – Domination or Discipline
S – Submission or Sadism
M – Masochism
This gives us four larger categories of BDSM: bondage, dominance and submission, discipline, and sadism and masochism. Almost any other sexual fetish will fall under one of these three categories.
Bondage
The first area of BDSM is bondage. This is the practice of tying up your partner or restricting their movement during sex. It's not always the entire body, and things like handcuffs also work great for bondage.
We cover this topic in much more detail in our Bondage and Chastity blog, but at its core the important elements of bondage are restriction and control. That makes it an ideal kink for anyone who enjoys chastity, as these are also elements that are common in a chastity relationship.
Dominance and Submission
The next two parts of BDSM go hand in hand, and these are dominance and submission. Essentially this can be boiled down to one simple premise: one partner takes a dominant or more controlling role in the sex/play/relationship, and one partner takes on a more submissive role.
Many relationships will already have these dynamics to an extent. For example, a more traditional relationship would see the male partner taking on the more dominant role, while the female is more submissive. Sometimes partners will switch between dominant and submissive roles depending on the situation, with one taking charge in some areas of life and the other partner taking charge in other areas.
As a BDSM practise, dominance and submission is an important part of many different kinks. Chastity, for example, involves a submissive man and a dominant keyholder, and without this dynamic the kink just wouldn't work.
This is why dominance and submission are core parts of BDSM – they underpin the dynamics couples want to explore by giving each partner a clearer role in the play.
Discipline
Many different BDSM fetishes (particularly those involving domination and submission) will include an element of discipline. Just like any other scenario where a certain type of behavior is expected, the same is true in BDSM.
Usually a BDSM relationship will be planned ahead of time and during the planning process the behavior of each person involved will be clearly laid out. Often there will also be punishments, which will be administered if someone fails to live up to the expected behavior. Both parties need to agree to these expectations before proceeding.
In chastity, this will lay out what kind of behavior will be expected of the slave. He will need to follow these expectations to the letter if he expects to land in Mistress's good books (and maybe earn some pleasure). Similarly, if he misbehaves then Mistress will be free to punish him as she sees fit (as long as it's within the agreed rules).
This kind of play can be very exciting, as it can add a new dynamic to almost any relationship. Obviously misbehaving constantly will ruin the fun, but occasionally stepping out of line and forcing the dominant partner to take action can be an exciting way to spice up your BDSM play.
Sadism and Masochism
The final part of the BDSM umbrella is sadism and masochism. These both involve pain, suffering or humiliation, but while the sadist enjoys being the one to inflict or watch these things, the masochist enjoys being the recipient of them.
While the other areas of BDSM are often present in pretty vanilla relationships, it's rare to find sadism and masochism outside of more hardcore circles. But it doesn't just have to be whips and chains. Even the most basic of chastity relationships include some level of S & M, but how far you decide to take it is entirely up to you.
One of the most common ways to bring sadism and masochism into your chastity relationship is through electrostimulation. These cages allow you to deliver painful shocks to a man's penis and take pleasure in his suffering. The Nautilus E-Stim cage is one of our top picks for electrostimulation, and a great way to explore this aspect of BDSM.
If you'd rather focus more on the humiliation aspect of sadism and masochism, then pink sissy cages are the way to go. Cages like the Holy Trainer V5 help to completely strip a man of his masculinity, and leave him feeling pathetic in a cute pink cage.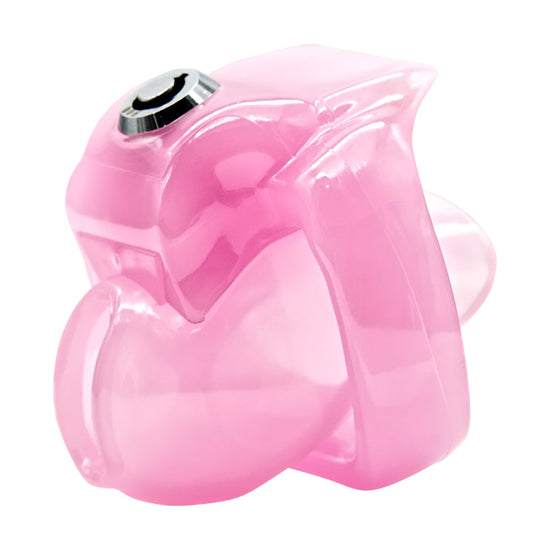 Putting It All Together
Once we move past the titles and get down to basics, we're left with a few simple ideas. If your kink or fetish involves some or all of these, then there's a good chance it falls under the umbrella of BDSM. These are:
Restriction
Control (or loss of control)
Domination
Submission
Humiliation
Pain Play
Suffering
Admittedly, when you see them in a list, these don't sound like good things. So let's zoom in on Male Chastity and explore how these different ideas can be enjoyable for both slaves and keyholders.
Chastity and Bdsm
So just where does chastity fit into the BDSM world? Well… kind of everywhere. For some couples, buying and using a cage might be their first steps into more adventurous fantasies. Others might be enjoying BDSM for years before they ever think of picking up a cage.
Chastity also covers pretty much all of the core ideas of BDSM. The man's cock is restricted, the keyholder has control. One is dominant, one is submissive. The slave is often humiliated or suffering. The list goes on.
Instead we find it more constructive to think about what BDSM can add to your chastity relationship, and to explore this we'll talk about some other kinks and fetishes.
Other Kinks and Fetishes That Pair Well With Chastity
When you start to explore the massive range of sexual kinks you can explore, there really is something for everyone. But which ones work well when paired with male chastity? These are our top picks.
Cock and Ball Torture
What better way to enhance your pledge than by adding a healthy dose of cock and ball torture? Commonly shortened to CBT, this involved making life absolutely miserable for a man's privates.
While any chastity cage does this to an extent through restriction and denial, you can choose tougher models to add an extra challenge. Cages featuring spikes or urethral tubes are the perfect option for slaves and Mistresses who want to explore this fetish. You can even try an electrostimulation cage, which allows a Mistress to deliver painful shocks to her slave's cock whenever she desires.
Alongside specialised cages, many Mistresses will use paddles, whips, nails and in some extreme cases even shoes to add some extra torture to her slave's testicles. As long as the man is willing to take the pain, the only limit really is your imagination.
Edging
Another favorite for all kinds of Mistresses is edging. This is a relatively simple practice, where you bring the slave just to the edge of orgasm (through stroking, masturbation or toys) and then stopping just before the climax. Each time he'll become more and more desperate to cum, and most slaves end up practically begging for their release.
While simple, this kink does a fantastic job of exploring many of the different aspects of BDSM. The slave gets to experience helplessness and humiliation as his desire for pleasure is laid bare before his Mistress. Meanwhile the Mistress gets to push her dominance to the limit, and take sadistic pleasure in his suffering.
Ruined Orgasms
Along a similar line is ruined orgasms. Similarly to edging, this involves pushing a man just to the brink of orgasm. This time though, instead of stopping, you push a little further and stop just after the orgasms start.
I'm sure we've all had that moment where the orgasm is ruined, and know how frustrating it can be. What better way to test a slave's limit (or punish them), than several days of ruined orgasms?
Prostate Play
When the penis is off limits, many slaves will turn to prostate play as their only source of pleasure. This gland is only found in the male body, and the best way to reach it is through the anus, which opens up a whole world of possibilities for Mistress.
The simplest way to reach this pleasure center is a prostate massager. These toys are uniquely shaped to directly stimulate the gland either through pressure or vibration. Some Mistresses might also use their fingers or even peg their slaves. With the right level of stimulation, a slave might even have a prostate orgasm, so he'll never need his penis again!
For the most extreme couples, prostate play can be taken even further with prostate milking. This involves massaging the gland to produce prostatic fluid without the intent of providing pleasure to the slave.
Temperature and Wax Play
Venturing back into the realms of sadism and masochism, we can explore temperature and wax play. Depending on how it's done, this doesn't necessarily need to involve pain, but it's always an option. Both of these practices involve making use of temperature to stimulate various parts of the slave's body.
Often a Mistress will blindfold her slave so he won't know where the stimulation is going to come from next. Adding in the blindfold lets the couple delve into the world of sensory deprivation, another favorite amongst BDSM practitioners.
Impact Play
Essentially, impact play covers any kind of hitting or whipping that Mistress does to her slave. This can include using whips, paddles, sticks and canes, or even just her hands. While it's quite simple, impact play does a fantastic job of letting couples explore pain play during their chastity relationship.
Femdom
Femdom is a natural fetish that most male chastity relationships will utilise without even consciously trying. This takes the dominance and submission elements of BDSM, and places the Mistress in the dominant role, and the slave in the submissive role (as you'd expect).
While taking the key to a man's cage naturally puts a Mistress in a position of female dominance, it's entirely up to you how far you take this fetish. Some are perfectly happy keeping it relatively simple, just deciding when the man is freed from his cage. Others like to take it much further, dominating their slaves sexually, mentally and physically.
At the most extreme end of femdom are female led relationships. These relationships see the female partner taking complete control, even outside of BDSM play or chastity. They'll make all the important decisions in the relationship, and take on the role that historically would fall upon the man.
Role Play
A very flexible fetish that you can explore during chastity is role play. This can take on many different forms, and let you explore all kinds of stimulation, sensations, and emotions.
Often couples may be uncomfortable exploring some of the more hardcore aspects of BDSM, so roleplay provides a perfect way to try these things without worrying too much, especially for Mistresses. Rather than being yourself you can take on the role of an interrogator, torturer, escort, or even just a different mistress. This lets you explore some areas you may be less comfortable with while "in the role", and then switch back to your usual persona once the role play is over.
Another great way to utilize roleplay during chastity is to help with feminization or sissy fetishes. Some slaves want to be feminized, and some even dream of being a woman. Taking on this role during role play lets them explore these fantasies in a safe environment before committing to it more permanently.
Objectification
Objectification is the practise of treating your partner like an object that you own, rather than a person you are in a relationship. Often this may seem quite cruel and abusive, but if practiced correctly can be a very exciting fetish.
In chastity, the slave's penis is very clearly an object for Mistress's amusement. This is one of the underlying ideas behind a chastity relationship, so objectification may happen quite naturally. Some Mistress's will take this much further though by putting their slave on display for their amusement.
This may be done with some predicament bondage, where she arranges his body in a way that's visually appealing to her, or be quite literal by putting her slave on display for her friends to look at. Often objectification is accompanied by derogatory terms for the slave, to make sure he always knows his place.
Cuckolding
One of the most extreme BDSM fetishes is cuckolding. This is quite simply letting the woman sleep with other men, but unlike cheating the man clearly knows about it and at times may even be forced to watch. Often the woman's other sexual partners will be referred to as "bulls" and their involvement in the relationship may be purely sexual, or may include romantic elements.
In chastity, the use of cuckolding further highlights how inadequate the slave is. His pathetic penis isn't enough for his Mistress, so she seeks sexual pleasure elsewhere. Sometimes it might be used as a punishment, sometimes for humiliation, sometimes to tempt and tease the slave, or sometimes purely for her pleasure. Whatever the reason, cuckolding is one of the rarest fetishes a chastity couple takes part in.
Permanent Chastity/BDSM
While it's not technically any different on its own, a permanent chastity pledge or permanent BDSM agreement is one of the greatest commitments a couple can make. This takes any of the aspects we've listed above (and those that we haven't) and makes them a long term commitment that becomes part of your everyday lifestyle.
These are just a few of the BDSM fetishes that can work well with male chastity, and there's plenty more for you to explore. But whichever you choose, always make sure your play is Safe, Sane and Consensual. Start browsing our Chastity Accessories collection now to find the perfect tools to make your BDSM sessions exciting.