Before we dive into the cages, it's important we discuss exactly what the sissy fetish is. If you already know this and just want to get to the cages, then feel free to skip ahead.
"A boy who other boys dislike and laugh at because they think he is weak or interested in activities girls usually like, or a person who is weak and cowardly."
In male chastity, the demeaning term is embraced rather than purely used to insult as it depicts them as girly, submissive slaves—though humiliation and degradation are key parts of the sissy fetish. Slaves who enjoy sissification take this much further though. They aren't just interested in female activities, they actively pursue them. Some men are even so into the fetish, that cross dressing and gender bending becomes part of their daily routine.
This can include a variety of activities such as:
Wearing women's clothes.
Wearing lipstick or makeup.
Adopting a feminine voice.
Adopting a female name.
Doing household jobs historically associated with women (washing, cleaning, etc).
Making an effort to completely hide their penis.
Hyper-sexualizing their female persona.
How far the slave takes these things depends on how much they enjoy the sissy fetish. At the most extreme end the slave will be, for all intents and purposes, a woman.
What is a Sissy Chastity Cage?
The only true requirement of a sissy cock cage is that it fits the feminine aesthetic that these slaves enjoy. This can be accomplished in a number of different ways, but the simplest is the pink chastity device. It might be stereotypical, but pink is often seen as a girly color. So a slave wearing pink is wearing a "girly cage".
A cute pink chastity cage can play into other chastity themes nicely, as a man wearing such a girly prison will often feel humiliation or even shame. A Mistress can be empowered by this and take her domination to the next level, which is exactly what a submissive sissy wants. The two dynamics build off each other to give the pair exactly what they were looking for.
Beyond the simple pink cock cage, there are a few other cages of note that can play into the sissy fantasy. Rather than covering their penis, they alter it physically. Flat or inverted male chastity devices hide the penis completely, which allows slaves who wish they didn't have a penis to explore that fantasy. Meanwhile chastity clips transform it, making clever use of the skin of both the penis and the scrotum and arranging them in such a way that it looks like the slave has their own, organic vagina.
Then of course, there's the nub. These are quite simply smaller versions of any other cage, and usually an option once a slave has begun to experience chastity shrinkage. As the penis shrinks and starts to fit into these tiny prisons, a Mistress can ramp up her small penis humiliation of their hilariously tiny cock.
Which kind of sissy cage you choose will depend on what you want to get out of the sissy experience. Are you simply looking for something fun to use occasionally? Do you want to be humiliated? Do you want to completely hide or transform your penis?
Think about these questions when searching for your femboy cock cage, and make sure that it will be able to meet your expectations.
---
Sissy in Pink
Our pink cage of choice is the Sissy in Pink. It's relatively simple and made of high quality resin. The body follows the very standard design of most of the cages you know and love, and has two ventilation holes near the tip to keep your cock cool. An internal locking system keeps everything neat and tidy, which is a great plus because who wants a bulky lock distracting from your pretty pink prison.
Most importantly though, the it's pink! If you end up liking it though, there's plenty of other colors to choose from, so you can even wear it in blue or black when you're not actively practicing sissy play.
---
Moving onto cages that physically differ from the norm, we come to the Nub. One of the smallest styles available, and puts the penis into a small neat package close to the body. You can find a lot of different styles of Nub, just like regular cages, but the defining feature is the size.
---
Holy Trainer V5 Nub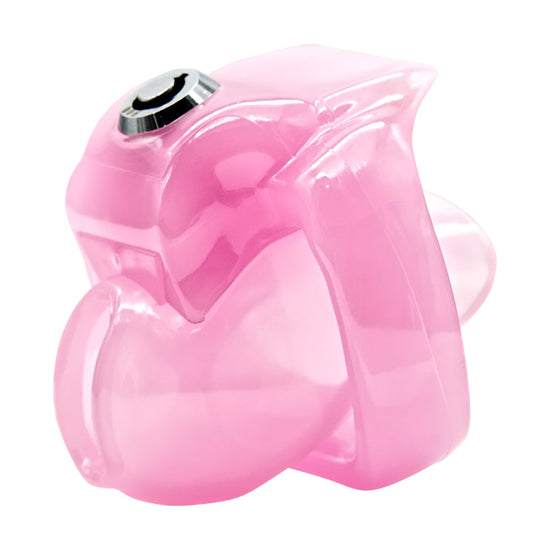 As we mentioned above, there are many different cages that can come with a Nub size, but our model of choice is the Holy Trainer V5. This device features all the things you'd expect from the name Holy Trainer, but also has an innovative new locking mechanism.
Instead of padlocks or barrel locks, the V5's integrated locking system is built into this sissy chastity cage. Just line up the two parts, press the button, and that's it! While many nubs will be similar (there's only so much you can do with a small cage after all), this completely new kind of lock makes the V5 stand out from the crowd. Along with its sexy pink aesthetic and tiny size, its a great sissy choice.
---
Inverted cock cages take a different approach to chastity. Rather than housing your penis in a cage, they push it back into your body. This helps slaves who find the sight of their penis distracting when engaging in sissy play, as you won't be able to see it at all!
---
The Flat/Black/Gold Gatling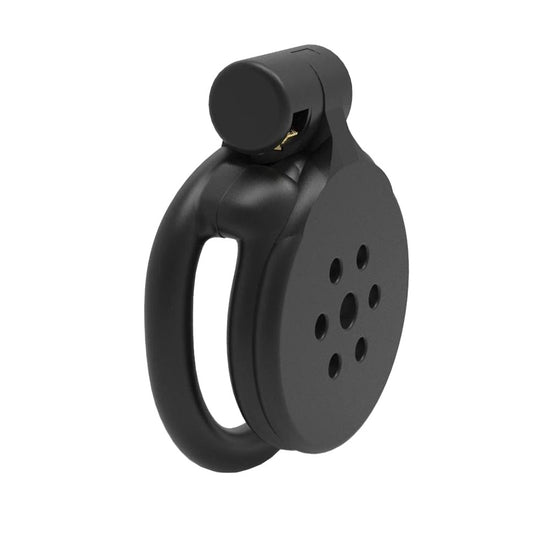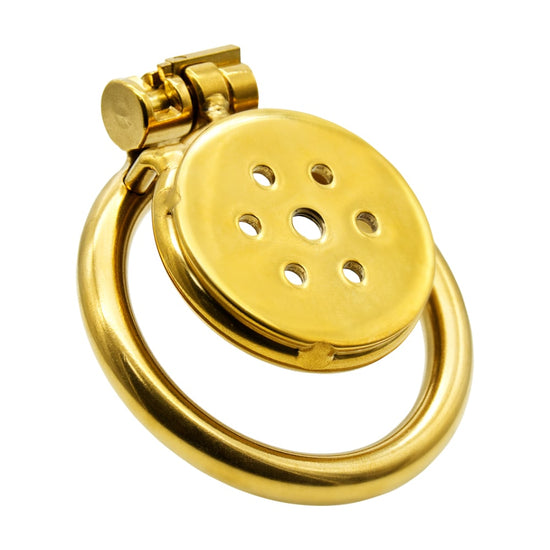 There's a reason we have three different styles of the Gatling. This is the premier option if you're looking for an inverted chastity cage.
A deceptively simple design, you slide the ring on, then use the flat plate to push your penis back and secure it in place. But this simplicity is what makes the cage great. There's no additional steps, no difficulties, just put it on and watch your penis disappear!
With sturdy metal and lightweight resin options, you can pick up the version that suits you pledge the best. Or indulge in the golden version to add a little luxury to your femboy play. Whichever you choose, they all have ventilation holes on the surface so even though it seems like a tight squeeze you should still stay cool and fresh during wear.
---
For the ultimate sissy form of restriction though, we have to move away from cages and explore the world of chastity clips. These restrict the cock and testicles in a completely different way, and while they are a little harder to get the hang of, and less secure than a cage, if you do it right you can make your male genitals look just like a vagina.
---
If you decide to go down the Chastity Clip route, then we fully recommend the Fufu Training Clips. Available in both metal and resin, and with a pink option for that extra sissy touch, you'll always be able to find a clip that suits you.
Fufu clips are widely praised for their design, which provides a neat little feminine package in place of your male genitals. If you're looking to completely remove your cock (without actually removing it), then these clips are the ideal choice.
---
As you can see, there's a vast range of products to choose from when looking for a cage that fits the sissy aesthetic. So make your choice now with Lock the Cock.